Before I go on to writing about the book, I must thank the Gods. It was nothing but divine intervention that made me discover Writersmelon on Twitter and from then on the website and then their book review program.
Someone to Love is my third book through Writersmelon. Confused Bastards(review) and A Walk in the Rain (review) were the two others. But I have enjoyed all three books. Again, I thank the gods for having stumbled on to their twitter feed.
Someone to Love by Ruchita Misra is a romance – a romance that matures as the characters go through life themselves. Someone to Love is the story is about Koyal and Atharv. As they walk to school, holding their mothers' hands, they become friends. Their mothers also become the best of friends. As they grow, they become soul mates – friends who know each other's souls.
They still stay the best of friends even in college. All of a sudden things go awry and Koyal takes off for parts unknown. Cutting off all communication with Atharv and asking her family to do the same. She quits her studies and gets married to someone she chooses. Meanwhile, Atharv becomes a doctor, gets married, and has a child.
Yet, somewhere in the heart and mind, there is still the vacuum of the dear friend, the one that knew their soul. There is tragedy, abuse, bereavement. But there is hope, joy, and perseverance as well. Everything that one actually goes in their own life at some point or the other.
As I read the book I moved with Koyal and Atharv, as they grew into the people they would become. But only upon finishing the book did I realise that I had forgotten about the prologue. Obviously, the prologue made sense in the end. The story had me so captivated. Only later did I understand the skilled manner of the author in writing the prologue.
All characters in Someone to Love are well defined. Atharv and Koyal, their parents, their friends, everyone has a place and everyone has a purpose. Koyal's actions in the first half of the book may seem a bit out of the ordinary for a girl living in this day and age. Then again, the author does give an insight into her personality.  I was particularly touched by the conversation between Koyal and her mother, and how she copes with the loss of her mother. The romance was well written as well.
The end of the book, especially where the dead write letters, takes you back to a movie – Kuch Kuch Hota Hai. Though the book is a lovely read, I feel the author could have given this bit her own spin. I wouldn't call it a complete sappy move like it happens in the movie, but if you have seen Kuch Kuch Hota Hai, you will definitely see a shade of it in the book, more so towards the end.
What did I love? The romance.  It grows from a form of innocence to an all-consuming turmoil and then settling into the stillness of a lake. Through the years, while it changes form, its depth continues to grow.
Someone to Love is a delightful and breezy read. I finished the book in a few hours at one sitting. So it's a light read as well. Well written, using simple language, yet managing to portray emotions and turmoil, Ruchita Misra has done a great job. Given that Someone to Love is not her first book, I figure she shines brighter than before (Someone to Love is my first book of hers). Definitely making it a point to add more of her books to my reading list.
I would recommend Someone to Love for anyone looking for a light and delightful read. Perfect for snuggling up with a cup of tea!
I received a review copy of the book from Writersmelon in exchange for an honest and unbiased review.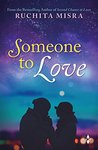 Someone to Love by Ruchita Misra
My rating: 4 of 5 stars