Let me start off by telling you, you will love this book if you have ever been subject to the concept of an arranged marriage and meeting prospective grooms. Being somewhat of an expert in the "meet and greet guy" experience, I have had a great time reading this book.
Encounters of a Fat Bride is a short and sweet tale of Madhurima, who at 5'2" weighed 93kilos. But she is also qualified, employed and also pursuing her studies while working. Despite her many accomplishments, society will still limit her to being called a "Lovely, sweet girl. Fair complexion. Big eyes, healthy figure, heavy chest, long hair. Respectful, graduate". Those words are not mine. They are ones that her grandmother used to describe her on her matrimonial profile.
Families come and go, Madhurima meets prospective husbands, but always rejection is just a phone call away. Finally, things go right and with both families involved, she gets engaged to Harsh. But not all is well. Things get murkier and Madhurima has to break off the engagement. (Personally, I do not like the name Harsh. We do say it as Har-sshhhh, but let's not forget, harsh is also an adjective – Haarsshh).
Anyway, with time comes calm in Madhurima's life. She begins her own journey and discovers many things. But most important she does find love – in Harsh. She may have rejected him before, but now with knowledge and insight gained, she loves him. Where once both families were enthusiastic about the marriage, now both are opposed to the union. But all's well that ends well.
This book was a superbly fast read. Just a couple of hours and done! Encounters of a Fat Bride is succinct in getting to the heart of the issues that come into play when an arranged marriage is concerned, especially in these times. The issues of dowry and the awkwardness that it creates – the contradictions that living with modern principles and needing to uphold archaic traditions – these are handled rather well. I read what I would have at the very least done in such a case.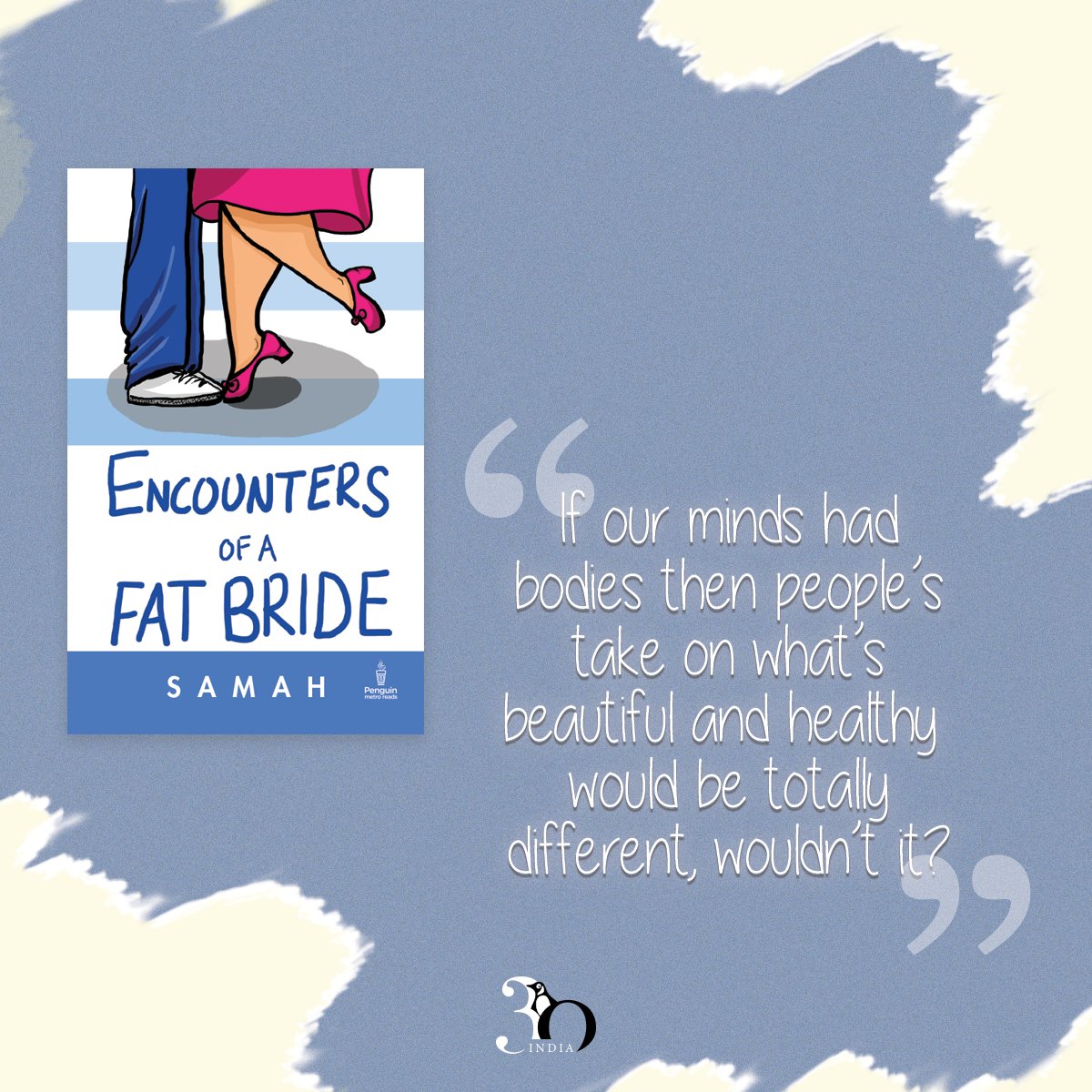 The most important thing that Encounters of a Fat Bride, in my opinion, brings to the fore is that none of us is perfect. Nothing is perfect. We can dream up perfect romances and perfect clothes, but it doesn't matter. Because we need to make everything perfect for us. If not the grass will always be greener on the other side all our lives. Madhurima also wanted romance, a perfect figure, a perfect life. But once she understands that not having a slim waist doesn't undermine her worth, she is happy. Then there is also the understanding that not all of our flaws are external, or just skin deep. And this, Samah Visaria has managed to bring into focus in just a few chapters in her book.
Personally, I could see more than a few familiarities in such instances between the book and such experiences in real life. Anyone who reads Encounters of a Fat Bride will as well. I definitely recommend this book to everyone.
You can find a copy here – Amazon, Flipkart.
Goodreads
Encounters of a Fat Bride by Samah Visaria
My rating: 3 of 5 stars
View all my reviews