Today's prompt – three personality traits I am proud of.
First off punctuality! I have this insane need to be on time. I think it started because it was drilled into our personalities at school. If I need to be at a place at 11am, I am there five minutes before. Moreover, I do not like people who tend to be late. I find excuses like traffic to be very juvenile and instantly judge people when they are late.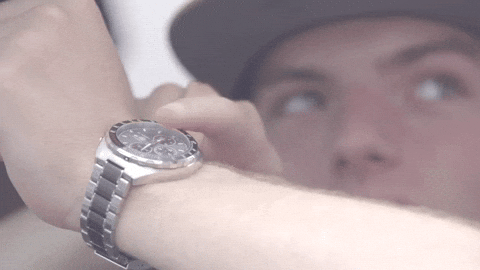 Secondly, I am proud of being an ambivert. It is the best of both worlds. If I do not want to interact, I can bring out the introverted side of mine and get away with it. And when I really need to network, I turn on the charm. The adaptability of this trait is very handy.
And finally… I am someone who over thinks things. I dissect and trisect, I make lists of pros and cons. I make a nuisance of things in my mind. I turn cynical and sceptic. But, this also means, I am ready to face a situation. If I have already been in such a situation, then I may apply my learning from that time as well. The stress or the tensions I can deal with. The emotions, maybe not. My friends can attest that I do not lend a shoulder for my friends to cry on. I ask them who or what put them there and roll up my sleeves and deal with it. The stress and difficulty is something I can deal with, emotions I let them be.
And here is a gif for you –