Right then, another suspense and I am loving it! Someone You Know was such a thrilling read. The book is about twin sisters, Edie and Tess Piper. They are as different as they are the same. And one day Edie goes missing. Life is not the same any longer for anyone involved, especially Tess.
The book starts off in present-day London with Tess. A glimpse into her life. Twenty years since her sister went missing, Tess is struggling. She has a job, but she has troubles. She has her episodes. Oscillating between being there and going on a bender. Tess makes do. Every time she hits a low, her father, Vince Piper, comes and helps her pick up the pieces.
Vince is no better. He was an unemployed man living with his wife (Gina) and twin daughters, struggling with depression. All he does is watch TV and smoke. Also in Edie and Tess's life are their uncle Ray (Vince's brother) and his wife Becca. The girls love their uncle Ray. But he has a special place for Edie, with whom he shares his interests in music and dance. Vivacious Edie and solemn Tess. That is until tragedy strikes and their mother is killed in a road accident. The family copes, but it is not the same any longer.
Ray arranges for Vince and the girls to move to a new neighbourhood, a new school. But it just makes the sisters drift further apart. A few years later, Edie goes missing. Twenty years later, Tess receives her father's phone call claiming the police have found Edie remains. And that sets off a chain of reactions that are catatonic. Tess floats in and out. She is either so drunk she does not remember things, or she is sober enough to figure things out. Vince was incapable of handling things. A man who takes the easy way out. Ray and Becca make the funeral arrangements and are basically all up in it like they have always been. Considering Ray and Becca think of the girls as their own daughters, their behaviour can be excused, but only slightly.
As Tess retraces her sister's footsteps, she makes some astonishing discoveries. She realises that not all is well; wonders if Gina and Edie's deaths are connected. She begins to see things from a different perspective. Finally, she finds out the truth about everything.
How did I like the book? It was well written. The suspense was good, the plot great and the twists and turns kept me turning pages. Ray was a complete ass, Vince was an incompetent and irresponsible parent. And Becca was confusing. Tess on the other, the reader starts off with pity for Tess, but as you read, you really want to hit her on the head with a nice thick book. If only she drank more coffee, she would see what was right there under her nose. The fact that these characters can make you so passionately judgemental shows excellent writing and that makes Someone You Know a good book.
The ending of the book was a bit hurried. It made sense, but it could have been better explained. That it was short lived was a bit of a disappointment to me. The book is also put forth in a to and fro between the past and the present. The past from Edie's perspective and the present form Tess's. It was lovely to read this way, not only because it shows us two sides of the same coin, but also because it shows us Edie and Tess as they are. The people they were and would become are what these perspectives give us.
On the whole, Someone You Know is a good book. It does not have the gore that is off-putting to most readers, and it is suspenseful enough for readers who love this genre. Overall, Someone You Know can be enjoyed by all.
Go read.
You can find a copy of Someone You Know here – Amazon, Kobo.
Goodreads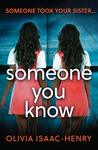 Someone You Know by Olivia Isaac-Henry
My rating: 4 of 5 stars